Palletising robot

Palletising robots are the basic component of automated palletising systems. With their flexibility and quick changeover capabilities, they are gradually replacing standard palletizers.
Robots gain recognition because of their speed and reliability. They are more and more widely used across industry wherever customers expect unattended and failure-free operation 24/7.
The wide range of robots dedicated to palletising and load handling includes:
a robot with the lifting capacity of 180-470kg and the reach of 3.1m
a robot with the lifting capacity of 290-500kg and the reach of 3.0m
a robot with the lifting capacity of 130-210kg and the reach of 3.7m
Robots are always chosen by our team of engineers who specify the possible lifting capacity, reach, number of layers and additional features of each robot. At the end of the engineering stage a robotic simulation is submitted to the customer for approval.
Besides its robotic arm, a robot is also equipped with a gripper as an essential component designed for and dedicated to the expected tasks. The handling device allows for:
gripping, shifting/handling a single load (carton, multipack, container, bag)
handling/palletising layers or ready groups/stacks of goods
adding spacers on pallet layers
feeding pallets.
PROMAG S.A. offers comprehensive deliveries, commissioning and integration of transport and packaging systems.
« powrót
Examples of implementations: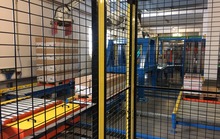 An automatic system for transporting cartons and palletising them with the use of an industrial robot for the Client from food industry.
See more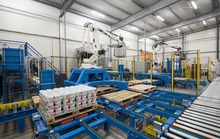 We are showing a robotic system delivered in 2015 for palletising small pallets and buckets which is connected with a pallet transport, wrapping and labelling system and related to the process of creating a warehousing system. This is one of PROMAG's most interesting projects in the area of robotic palletising for the food industry.
See more
A robotic system delivered in 2010 for palletising MDF boards, and a transport system for special pallets was based on an arrangement of chain conveyors supported by a palletising robot equipped with a pneumatic gripper dedicated to the products to be palletised (MDF boards.)
See more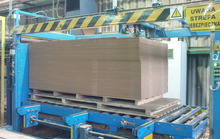 Another project of PROMAG S.A. An extended pallet transport system using several types of conveyors, palletising robots and scissor lifts.
See more
In this project we delivered a robotic palletising system for PS foam along with a pallet transport and wrapping solution. The equipment used included palletising robots.
See more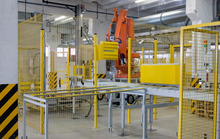 An extended pallet transport system using roller conveyors supported by an industrial robot, vertical conveyors, a pallet magazine and an automatic wrapper.
See more