In-line pallet magazine
Pallet magazines are one of the basic types of equipment used in pallet transport systems, especially in robotic palletising areas. The magazines are designed for storing and dispensing pallets according to the pace of the line.
Pallet magazines reduce the necessary involvement of personnel in line operation as well as making industrial processes shorter. The role of an operator is limited to loading a pallet stack into a magazine following which the system will dispense pallets to the line as needed for the cycle.
« powrót
In-line pallet magazine
Examples of implementations: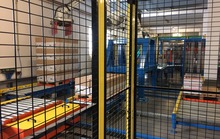 Pallet transport system with three palletising stations to the automatic wrapper for a Client from food industry.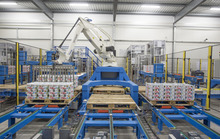 An automated system for transporting and palletising products using industrial robots, and a system for transporting full pallets, including a transfer through a cooling tunnel, final stretch wrapping and labelling on both sides of each pallet.