Goods lift

Goods lifts are designed for vertical transport of loads between different storeys in a building. A four-pillar self-supporting structure provides a robust support for transporting loads of up to several tons even when transporting up to four pallets at the same time.
These machines (goods lifts) can transport both pallets and various industrial trolleys or platform trucks with cartons or containers. The size of the platform is always adjusted to the loading unit and limitations of the existing infrastructure. The working platform enables loading with a manual or electric pallet jack, or a forklift truck.
« powrót
Examples of implementations: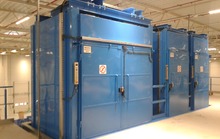 The dynamic development of e-commerce industry induced one of our customers to build a system of goods lifts, improving transport of goods between floors of a warehouse mezzanine.
See more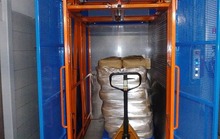 Another ice cream producer has invested in PROMAG S.A. conveyors. Particularly noteworthy is the fact that the cabin and its dimensions have been adapted to the dimensions of one EUR pallet with a manual pallet truck.
See more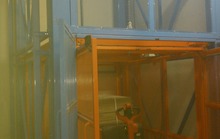 A goods lift provided by PROMAG S.A. to an automotive company in 2015.
See more
The project was provided to a large dairy company. The system included: roller conveyors, a roller turntable, a vertical conveyor (a goods lift.) Additionally, the following was installed in the system: a roller gate, smoke and fire curtains.
See more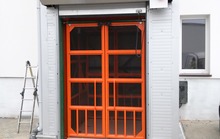 A goods lift delivered by PROMAG S.A. The project was completed in 2014.
See more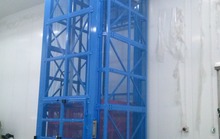 Another goods lifts project of PROMAG S.A. delivered to the food industry.
See more
Goods lift delivered for a company from the food industry.
See more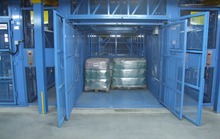 Another goods lift project in the automotive industry.
See more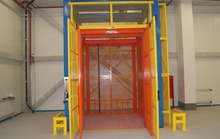 We delivered three goods lifts for transporting different loading units to a manufacturer of household appliances. It was a part of a larger project we delivered.
See more