2019. Transport system for cardboard boxes and EUR pallets for an automotive parts distributor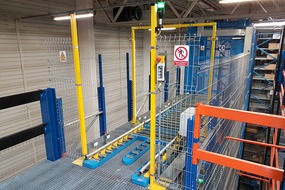 We are pleased to present you one of our implementations in the area of warehouse logistics for a distributor of automotive parts. The photos show the transport system for carton containers and EUR pallets, servicing sixteen loading / unloading levels located on four four-level storage platforms.
In the area of applied solutions it is worth mentioning:
sixteen loading/unloading lines of roller conveyors operated from a level accessible by hand pallet trucks,
three vertical transport conveyors, including a double-sided conveyor, serving seven different levels within a working range from 80 to 7200mm,
four pallet turntables with a working height of 80mm from the floor,
a pallet roller buffer, running on a 2.5m support structure manufactured by Promag, with a total length of approximately 120m,
pneumatic access doors, pallet outline control gates, light and sound signalling devices, distributed cabinets and control panels in the vertical transport areas.
The device drives are based on the solution of decentralized inverter networks, allowing for the reduction of the dimensions of control cabinets several times.
By default, loading is handled only from one line of roller conveyors, located from the side of the loading docks of the hall. By operating with two adjustable parameters, the operator can choose the destination of the closest series of transported pallets. It is possible to overwrite the destination before the pallet reaches the currently selected vertical conveyor.
Regarding vertical transport devices, areas have been separated that can be switched into an alternative mode of operation. This mode serves as an independent vertical pallet transfer system that handles loading and unloading from any of the nearby roller conveyor lines. At the same time, the remaining areas of the system are permitted to work in any of the two transport modes. Turning off any of the three vertical conveyors does not abandon the transport and buffering process on the link. By default, the system allows you to buffer several dozen pallets delivered in bulk during morning deliveries and to gradually unload the buffer during the next three working shifts.
« powrót