2015. Pallet transport system with a vertical conveyor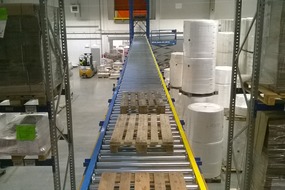 A system to transport 800x1200mm euro pallets and 1000x1200mm wooden industrial pallets for another client from the hygiene products industry.
The system includes roller conveyors, a roller turntable and a vertical conveyor. Pallets are transported on two levels: loading at the heights of: H=~400mm and H=5000mm, transporting the products to the level of H=3300mm.
« powrót