2019. Automated transport and storage system.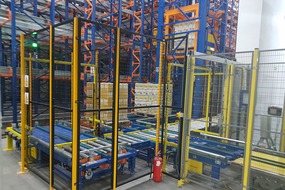 Transport system in this realization is an introduction to the extended automatic pallet storage system, which PROMAG S.A. implemented for a dairy customer. An innovative system AutoMAG Mover was used here, which fully excludes the participation of man in the process of loading and unloading the rack.
The technological equipment complements the system with, among others, AutoMAG Lift vertical conveyor, which enables moving pallets to the appropriate storage level. Meanwhile, the AutoMAG Mover platform together with the AutomMAG Shuttle satellite system take care of bringing the unit to its final destination in the rack.
The conveyor line is directly connected to the existing output from the customer's production.
The system of transfers and turntables ensures the proper orientation of the pallet when it is delivered to a siding for pickup with a forklift truck and when it is fed to an automatic warehouse.
The implemented solution it is the fully automatic AutoMAG Mover dense storage system consisting of:
a dedicated system of conveyors transporting pallets from production to the warehouse,
the AutoMAG Lift vertical conveyor, which delivers the AutoMAG Mover pallets and transfer carts to the required level in the rack block,
3 AutoMAG Movers that move pallets and AutoMAG Shuttles along the rack block,
3 AutoMAG Shuttles that place the pallets inside the rack channel,
high-density storage rack system with 7 storage levels,
proprietary PROMAG software for managing the operation of the storage system.
Customer benefits:
high coefficient of warehouse cubic capacity utilization,
automation of warehouse operations,
cost reduction (mainly in terms of employees),
acceleration of processes,
elimination of human errors,
improvement of work safety.
« powrót