2012. Pallet transport system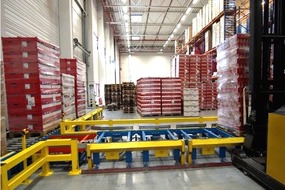 One of the most interesting pallet transport system projects in a dairy company. The system was provided in 2012 and used a number of devices ranging from roller conveyors to various types of transfers.
More specifically, the system used roller and chain conveyors, four-column vertical conveyors. Roller turntables and roller and chain transfers were deployed for changing pallet transfer direction.
« powrót