2017. Pallet transport system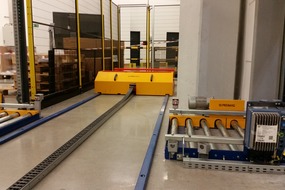 For one of our long-term suppliers- the manufacturer of drive systems - we have implemented a complex project of combined systems for transporting EUR and DHP pallets, as well as non-standard solutions. The assumptions included maximizing the use of Client's own components in the developed structure, involving the dispersion of inverter network situated directly in the assemblies adjacent to drive systems. It is the first such project on the Polish market completed on the basis of NORD's innovative solution.
In the project, PROMAG employed a motor-driven transport trolley with 80 mm working height tracks,which serves as a divider distributing individual load units to corresponding receiving lines.
In order to ensure full traceability as well as preliminary quality control, every effort has been taken to integrate our conveyors with production lines, weighing systems, and the WSM system designed for identification of transported components. The entire system was built with a view to enable further expansion with additional multi-level lines buffering stock in the warehouse.
Focused on personnel safety, while designing our system we paid close attention to this aspect, especially in the context of cooperating production lines, control stations, as well as the extensive paint line and overhead conveyors. The calculations of all working heights accounted for cooperating workstations; in the case of picking operations, an ergonomic platform was designed to cooperate with the scissor lift, which helped eliminate unnecessary movement of employees lifting and putting aside components ready for dispatch. The system is designed to limit the use of forklift trucks - loading and unloading can be carried out with a standard hand lift truck. The goods receipt and dispatch system is controlled automatically, using lift truck detection based on the induction loop principle. This solution allows for efficient warehouse operation without the need for the operator to step out of the truck.
Another interesting solution is the turntable based on low-profile constructions with a working height of ca. 80mm. The device - together with cooperating conveyors - meets the Client's requirements and technological needs without the need to interfere with the floor structure. The low-profile technology was developed to ensure the operation of transport systems using hand pallet trucks.
« powrót