2017. Pallet transport system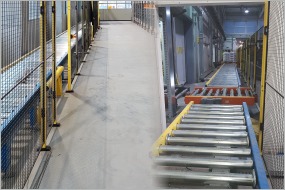 For a leading Polish chemical manufacturer, we have prepared and implemented a project involving an autonomous Europallet transport and storage system based on roller conveyors, turntables, including full integration with a high-density storage system based on AutoMAG Shuttles.
The system developed by PROMAG is based on top quality frequency converters from Danfoss. The automatic systems offer remote access to simplify diagnostic procedures, which helps minimize the time needed for problem analysis and service response. In its assumptions, the project necessitated the exchange of element control signals from the Client's existing production system and robotized palletization system.
The extensive size of the system located in 3 halls required the development of a detailed design including operators' work zones, as well as transport and communication routes. Solutions increasing functionality were implemented in the form of footbridges/platforms; moreover, forklift truck work areas were secured with a safe detection system.
The completed project enables future connection of the transport line with a racking block, as well as expansion of the warehouse to include an additional AutoMAG Lift&Mover module, i.e. components forming a fully automatic, maintenance-free warehouse.
« powrót