2005. Pallet transport system with driven trolleys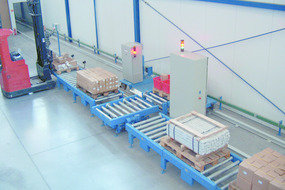 In addition to roller conveyors and a turntable, the pallet transport system is equipped with a driven trolley for transporting pallets on longer distances.
The solution shown in the pictures combined pallet transfer on short distances using roller conveyors and transport on longer distances with a driven trolley. Pallet orientation needed to be changed in order to load pallets on the trolley. This function was provided by the roller turntable.
« powrót