2017. Pallet transport system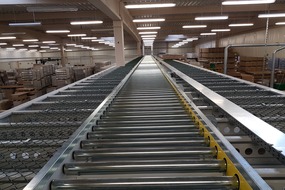 This is PROMAG's another completed project involving a bridge. It employs advanced control of roller conveyors, turntable, and vertical conveyors to ensure safe handling of pallets up to 1500kg in a manner that does not interfere with the previously existing operations of the production and storage facilities. The applied integrated structure of the supporting frame involving dedicated transport devices enables effective use of space without the need for fundamental changes in the existing layout of machines, devices, and communication routes.
In the furniture industry, large-size components are handled quite frequently. In this project, the characteristics of transport units turned out to be a considerable challenge. Despite the application of the Europallet standard, the transported load can extend beyond the edge of the pallet even by a half of its size, and loading with a forklift truck can lead to undesired movements of the items. Additionally, the requirement of applying a buffer function and reversible operation of the system encouraged us to employ complex detection systems in the form of outline gates or length control (among others), performing in-line measurements in real time.
Our solutions created an opportunity to support data acquisition processes in the form of continuous monitoring and recording of system performance. We believe that the continuous development of technology, management standards - including ISO 9001 - and the requirements of end users, will force manufacturers to ensure comprehensive traceability of production in the upcoming years. This can only be guaranteed by a rational use of industrial automation.
Personnel safety is a fundamental value for PROMAG S.A., which is why we have made a great effort to perfect the construction of fixed guards and automated security systems, in particular during the implementation and integration of the smoke curtain system, as well as the emergency power supply system (UPS).
Another valuable and noteworthy experience resulting from this project was the possibility of reusing the concept of a turntable with a low-placed working area, along with designing service passages in hard-to-reach places.
« powrót