2015. Pallet transport system with a stacker and trolleys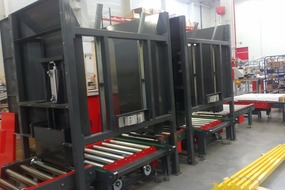 A pallet transport system comprised of roller and chain conveyors, turntables, pallet magazines, roller and chain transfers, installed for a manufacturer of hygiene products.
The set of equipment included also a pallet stacker and driven rail trolley.
The driven carriages are a combination of a transfer car and a roller conveyor. They enable fast transfer of products between stations.
« powrót