Palletisation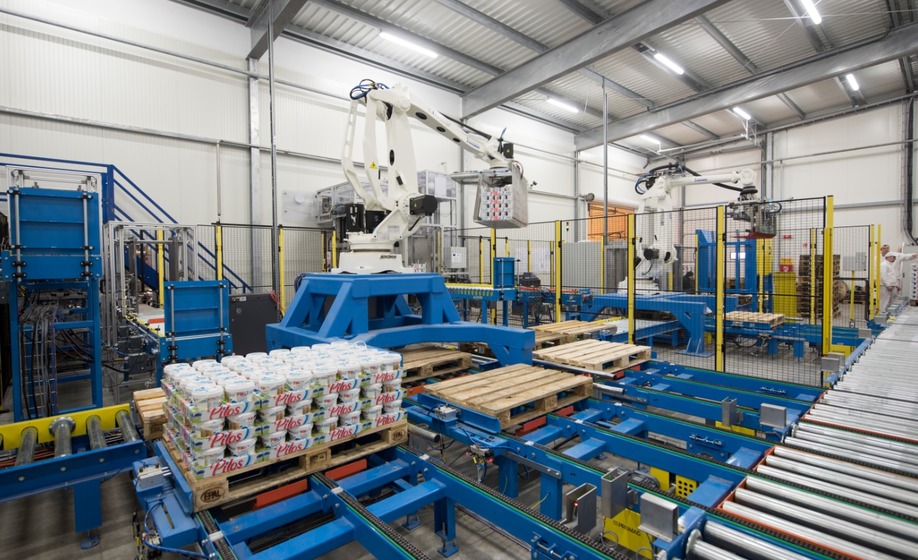 Highly advanced production, transport and packaging systems employ robots in their processes. The area in which PROMAG S.A. provides its Clients with special support is palletisation. It is a natural process complementing the logistics of products and their fully comprehensive preparation for storage and further distribution. We offer extensive know-how of our engineers and designers in the field of complex line solutions - from transporting individual pieces or bulk packages, through their palletisation, and packing (wrapping / banding), to marking and transporting to the warehouse, in connection with pallet delivery to a dedicated storage location (automated warehouses).
A well-designed automated palletising system combines process and pallet handling systems with a simultaneous use of auxiliary equipment. A robot cell is therefore a comprehensive combination of:
a palletizing robot
a dedicated gripper, tailor-designed for a given solution
stackers and devices preparing items for correct feeding under grippers
pallet magazine and an integrated line supplying the system with main transport units
receiving pallet conveyor system transporting palletised units outside the robot cell
Concluding the above-mentioned "process chain", the transport line is usually equipped with an automatic wrapper and/or banding machine, as well as a labelling system. PROMAG S.A. is a supplier and integrator of comprehensive solutions for palletising, transport, and storage systems.
At the heart of each system there is a robot with a gripper for dedicated the line. PROMAG's automation engineers and designers take an individual approach to each solution by developing cells ensuring optimised use of the arm's speed, range and capability. Depending on the analysis of a given solution, the robot can pick up a single item (package, bag, container) or a prepared set of items, a stack or even several layers of palletised goods. Therefore, it is important to choose both the right robot and the right power system, stacking equipment and devices preparing items for palletisation.
Robotic palletising systems are designed to ensure safety and compliance with the strictest standards. Each cell is subject to threat analysis and risk assessment. This way we select and supply modular guards and sideboards adjusted to existing infrastructure, equipped with high-class locking bolts and electric locks, light barriers using muting features, with the entire system being managed by a programmable safety controller.
Each system requires an individual approach to design, work and operation, and therefore PROMAG S.A. provides comprehensive technical solutions, clear and comprehensible operating documentation, also offering a cycle of training courses for operators and maintenance personnel. Commissioning takes place with a full support and assistance of our engineers and during the start-up of each system.
« powrót