Goods lifts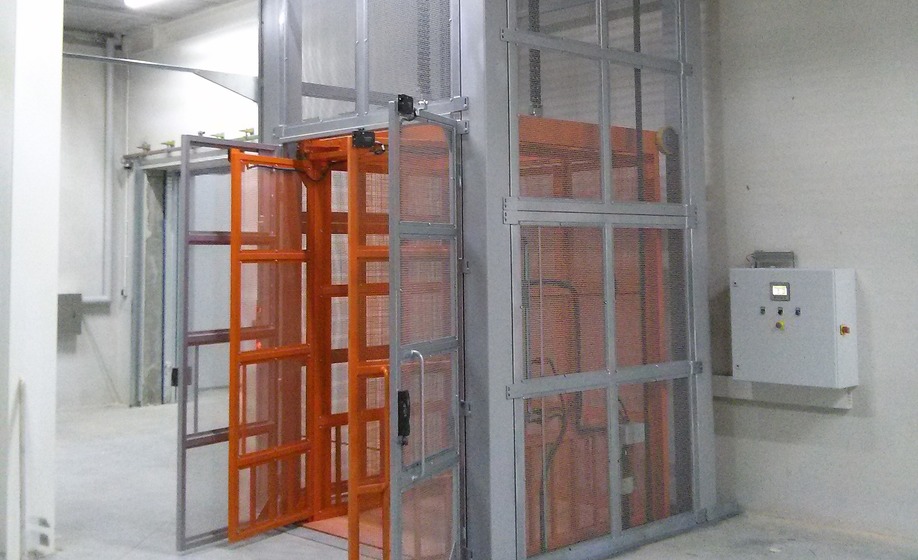 Goods lifts are designed for transporting loads between storeys of buildings, constituting an independent structure, usually self-supporting and operated directly by personnel. They operate in a semi-automatic manner, whereas the role of the operator is limited to loading the goods, closing the shaft, and selecting the intended level number.
PROMAG's solutions are always based on a sturdy, four-pillar self-supporting structure, fully fenced and secured against direct access to moving parts, which are dangerous by definition. It is therefore possible to carry out work directly around the lift, without providing any additional fencing or creating a buffer zone. The driving power is transmitted via the shaft and gears to chains that in each case constitute the load-bearing element of the machine. The cables are selected on the basis of a relevant safety factor, its value being several times higher than required for the expected weight of transported loads.
Goods can be loaded by means of electric forklift trucks, or hand pallet trucks. Depending on the selected solution, the loading platform can be made available for operating personnel, and the system can hold up to 4 pallets at a time. The interior of the cage is fenced and secured against uncontrolled load displacement. In the case of handling food products, the cage can be made of stainless steel components.
The goods lifts from PROMAG S.A. are supplied in accordance with the guidelines of the Machinery Directive 2006/42/EC, being fully safe and user-friendly. As a manufacturer, we design and deliver a complete technical solution. We discuss all required conditions relating to the construction of the shaft pit and foundation; we also prepare complete commissioning documentation. To meet our Clients' expectations, we also offer comprehensive services in the area of construction and commissioning (UDT - Technical Supervision Office).
State-of-the-art improvement of your Company's operation
Our Company's great openness to Clients' needs has always been our trademark. We develop our modern transport systems with investors' expectations in mind, and it is their opinion that is decisive when any design comes to the table. We look forward to collaborating with you in order to develop optimum solutions for your plant. We are always at your disposal in terms of expert advice, customer service, and any information relating to our Company's activities. Do not hesitate to contact our Specialists - we will be happy to answer any questions concerning our offer. y.
« powrót