REALISATIONS: glass industry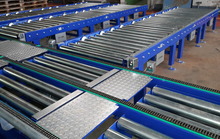 A system to transport 800x1200mm euro pallets and 1000x1200mm wooden industrial pallets. The line included driven roller conveyors, three-strand chain conveyors and roller transfers.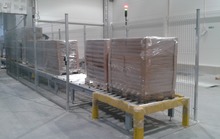 The system is to be used for transporting standard 800x1200mm euro pallets and 1000x1200mm industrial pallets. The system was installed in two halls. One is a loading area and the other one is for unloading. They are connected by a transport tunnel.
A pallet transport system in which chain conveyors were implemented and chain turntables were used to change the direction of pallets transported by the system.